It can be difficult to study or read in a noisy setting. That's where noise-canceling headphones come in handy.
However, choosing the best one is difficult, especially with our small student budget. No one wants to waste their money on something that will not provide us with the satisfaction we want.
So, if you enjoy reading, here is an article that you should read before purchasing noise-canceling headphones. Without further ado, let's dive right in.
What are noise-canceling headphones?
Noise-canceling refers to a technology (developed by Bose's CEO) that listens to and analyzes ambient noises.
It generates an opposite signal to match the noise, effectively cancelling out the unwanted sounds.
This allows you to focus on your music or just shut out undesirable interruptions in crowded places.
There are two types of noise-canceling headphones: active and passive. Passive noise-canceling simply uses sound-absorbing materials to avoid undesirable sound from reaching your ears, whereas active noise-canceling adds its noise to counterbalance.
It's best to use noise-canceling headphones that can dampen noises while canceling them out.
There are numerous advantages to using these headphones in terms of productivity and wellness.
You'll want to keep reading to find out what they are, as well as which noise-canceling headphones are recommended and are reasonably priced.
Are they safe to use?
Of all, with noise-cancelling headphones, silence isn't always golden. They don't make everything as quiet as a fresh snowfall at night.
When you use noise-cancelling headphones with this option turned on, you'll hear a tiny hissing sound. It makes some people feel a little woozy.
If the hissing noise bothers you, rest assured that there is no harm done to your hearing or overall health.
Noise-cancelling headphones, unlike cell phones, emit no radiation, so you can wear them without worrying about injuring your ear's delicate tissues.
How to Pick the Best noise-cancelling Headphones for Studying?
When it comes to choosing the best noise-cancelling headphones for studying, there are a few things to consider before making a purchase.
Here are some questions you should ask yourself:
What can I expect at various price points?

What is the best ANC to choose from?

Is it a pleasant experience?

Is the sound quality sufficient?

Is it possible to utilize it for phone conversations and online classes?

How long does it take the battery to charge?
The best noise-canceling headphones to wear while reading
Active noise-cancelling headphones are an excellent option for regular travellers or those who want to block out a bothersome air conditioner hum. But what if you want to silence human noises or dogs barking? This is when passive isolation comes into play. 
A physical barrier between your ears and the sounds you don't want to hear is called passive isolation. Many of the best (and most costly) noise-cancelling headphones have earcups and earpads that are designed to block as much mid-and high-frequency noise as possible while remaining comfortable. As a result, you get the best of both worlds in terms of noise reduction: active and passive.
BOSE QC35ii
Key features needed for studying or reading
Noise Cancellation Type: Hybrid ANC

Noise Reduction Depth: 27dB

Battery Life: 20 hours

Audio Codec Support: AAC, SBC

Multipoint Connectivity: Yes

Microphone: Yes

Voice Assistant Integration: Yes
The Bose QC35ii headphones are the ones for you if you're seeking the most premium pair of headphones in terms of feel and style to study with. These have the highest build quality and other features to help you get the most out of your studying sessions.
You can expect complete clarity and fullness in whatever you're listening to, whether you go full blast or at a moderate volume. Its volume-optimized EQ drivers improve the overall performance of the headphones, allowing you to focus on your studies. In addition, when needed, the dependable Hybrid ANC can tone out any undesirable ambient noises for a more pleasant listening experience.
Additionally, if you have a larger budget and want to update the microphones and add versatility, the Bose QuietComfort® 35 II Gaming Headset is our top selection for the finest noise-cancelling gaming headsets.
You may activate Alexa by pressing a simple action button on the headphones. You may ask her to play music, listen to podcasts, and look up whatever information you need without ever picking up the phone. Don't care for Alexa? You may always use your phone's default voice assistant, such as Siri or Google Assistant, by pressing the multi-function button.
Having the Bose Connect app might also help you feel more in control. You may change the ANC settings, enable music sharing, and manage Bluetooth connections, among other things.
Related: 11 Free And Interesting Audiobooks To Listen To At The Gym
2. Sony WH-1000XM4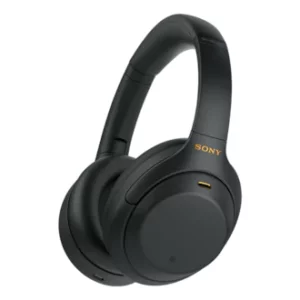 The previous Sony WH-1000XM3 model was fantastic. However, voice calling was a flaw, especially in noisy situations. The WH-1000XM4 model improves on that by adding multipoint Bluetooth pairings, which allows you to connect to two devices at once, such as your phone and PC. That implies that if you answer a call while wearing headphones while working on your computer, the audio will move to your phone.
Although the Bose Noise Cancelling Headphones 700 have a little advantage for voice calls, the 1000XM4 headphones are undoubtedly a tad more comfortable and also offer some minor upgrades to noise cancellation and sound that make this model a superb all-around choice.
3. Anker Soundcore Life Q20
Key features needed for studying or reading
Noise Cancellation Type: Hybrid ANC

Noise Reduction Depth: 35dB

Battery Life: 40 hours

Audio Codec Support: SBC, AAC

Multi-point Connectivity: Yes

Microphone: Yes

Voice Assistant Integration: Yes

Weight: 0.58 lbs
The Anker Soundcore Life Q20 is a pair of superb ANC headphones with well-rounded features, amazing audio quality, and tremendous battery life – especially at such a cheap price point – if you're on a tight budget.
On a full charge, these headphones can provide 40 hours of listening time (60 hours without ANC). With only 5 minutes of charging, you'll get 4 hours of playback time, which is ideal for when you're in a hurry.
The Soundcore Life 20 is equipped with Bluetooth 5.0 and multipoint connectivity. The hybrid ANC can block up to 35dB of external noise, which is a good level of protection for headphones at this price. There's also an uplink noise reduction microphone, so you can ignore some background noises in online lectures or meetings.
These headphones are also extremely comfy to wear for extended periods. The lightweight and flexible plastic construction are largely to blame. The ultra-plush leatherette ear cups add to the comfort factor.
While the overall audio quality is adequate for daily use, the detail is lacking, and the tonal balance is warm, favouring bass over clarity. They also continue to use Micro-USB, which you should take into account. There's also no option to change the EQ on the headphones, so you're stuck with the preset settings.
Furthermore, the limited codec selection (SBC & AAC) may result in latency concerns.
4. Sony WF-1000XM4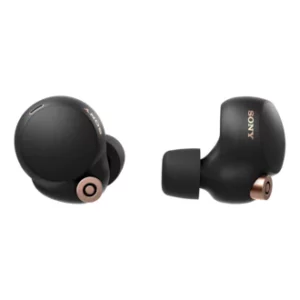 I'm not the sort to use a headset. Here is an earbud that is similar.
Of course, no earbuds are perfect, and not everyone will enjoy the Sony WF-1000XM4 buds' fit or be able to afford their $250 price tag. These earbuds, on the other hand, check all the boxes if you're seeking fantastic-sounding earbuds with great noise cancellation, solid voice-calling features, and long battery life.
The Bose QuietComfort Earbuds have excellent noise cancellation and sound quality, but the Sony has somewhat higher sound quality and a more compact design, especially for the case (albeit the Sony buds aren't small). Read our Sony WF-1000XM4 review for more information.
5. PuroQuiets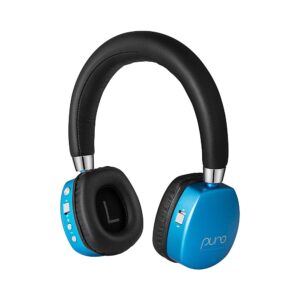 Key features for studying or reading
Noise Cancellation Type: Feedforward ANC

Noise Reduction Depth: 22dB

Battery Life: 23 hours

Microphone: Yes

Voice Assistant Integration: No

Weight: 0.37 lbs
The PuroQuiets are a wonderful choice for parents looking for noise-canceling headphones for their children that are both comfortable and safe (2 years old and older). On top of the 22dB noise cancellation, these headphones include an 85dB volume restriction, ensuring that your kids have a pleasant and comfortable road trip or any noisy circumstance.
To play the audio, you can use Bluetooth or 3.5mm cable connections, which is useful when Bluetooth isn't available (e.g., on a plane). If your children enjoy doing things together, the PuroQuiets can be daisy-chained for group listening sessions.
Despite the fact that the PuroQuiets have a kid-friendly volume restriction, the 40mm drivers and built-in microphone produce surprisingly good sound quality.
Keep in mind, however, that the PuroQuiets are on-ear headphones. Despite having soft ear cups, they may squash your children's ears. They also charge with micro USB, which is a little out of date right now.
The PuroQuiets' slightly higher price tag is justified if you're seeking for ANC headphones to safeguard your kids' hearing. However, if you're searching for truly outstanding ANC headphones, you might want to check the rest of this list.
Conclusion
Now that you have reached the end of the article hopefully you found the exact pair of headphones you were looking for.
Just remember that reading doesn't necessarily have to be a chore.