Strange to see how the one palm-sized Kindles can be the tiny bookshelf that you can carry with you whenever, wherever. Whether you are traveling, bathing, or simply commuting, having one of these can make anything a lot more bearable and, not to forget, educational. 
However, it is understandable that this process can be arduous. 
With a single click, you get exposed to countless options, which can only make it worse to choose the right choice for you. 
Therefore, I decided to do your side of the homework and collated a brutally honest review of the best Kindle to buy in 2021. 
So, let's dive right into it!
The Best Kindle to Buy In 2021
Here are the best kindle to buy in 2021.
Amazon Kindle (2019)

– Best budget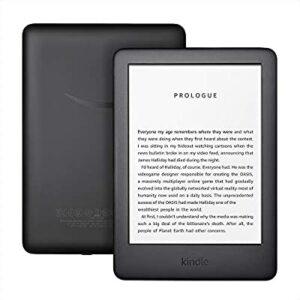 The best Kindle to buy in 2021 is one that doesn't put a strain on your eyes and is lightweight enough to be carried anywhere. If that's the definition of the ideal Amazon Kindle, this one is your best bet to go. You can totally enjoy all the perks of having a Kindle while making sure the budget fits your pocket. 
The 6 inches E Ink capacitive touchscreen is excellent for reading and lights up to help you indulge in your favorite books under the blanket. With this, you can feel free to stream Audible audiobooks via Bluetooth to your headphones so you can always listen to those motivational videos while you're on the go. 
It can surely be annoying to read under sunlight. Luckily, this kindle eliminates this problem by equipping itself with an anti-glare screen that can make it effortless to read anywhere and anytime you want. Just like the rest of the Kindle, this also offers about six-week of battery life with adjustable brightness and 8 GB storage for added convenience. 
Pros
Adjustable text size for improved readability

Great lighting options

Comfortable design

Aesthetically appealing screen
Cons
Poor text resolution

Daunting menus
2. Amazon Kindle Paperwhite – Best Waterproof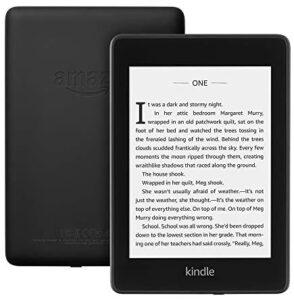 Bath times can be the most relaxing time of your day; now with this incredible Amazon Kindle Paperwhite, you can make this me-time even more memorable by reading (or rereading) your favorite novels that can help you dive into the world of imagination and creativity. It is the perfect mixture of Amazon Kindle and Oasis (spoiler alert: I'll be talking about it in a while) to give you 6 inch HD display waterproof screen that supports Bluetooth using audible audiobooks as well as Kindle Unlimited rental service, which is something you're unlikely to find anywhere else. 
Its superb memory can hold thousands of books at a time and can give a feel of reading an actual book but only waterproof. The best part? Just like most of its Kindles, this one also offers anti-glare screens.
Pros
Waterproof

Better typography

Bluetooth for audiobooks

HD quality screen 
Cons
There are still some features that are too tedious to use 

Bland design
3. Amazon Kindle (2019) – Best for Kids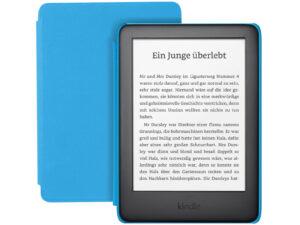 Everything that was missing in the rest of the Kindle has been improvised in this awesome Amazon Kindle (2019) that is packed with Amazon's latest improvements to make it ideal for kids. With this, you get the same 6 inches 167 Ppi display and lit display to allow you to read in the dark, all while making sure you're not damaging the health of your eyes. 
Not just that, it is also armed with a helpful vocabulary-building tool with a one-year free trial of FreeTime Unlimited not just to let your kids go through the books but properly understand, learn and make full use of it as well. However, there have been a few complaints regarding these missing features for adults kindle. 
Pros
Comes with warranty

Distraction-free interface

Simple interface for user-friendliness

No lock screen ads
Cons
The text quality is still poor 
4. Amazon Kindle Oasis (2019) – Best Luxury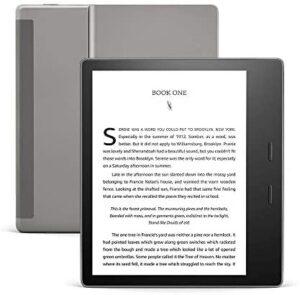 If you have to know how it truly feels to read books on a Kindle, start with Amazon Kindle Oasis. The latest model is one of their premium devices that you can buy right now. It has the brightest display out of them all, and the fast processor makes it seamless to turn pages and navigate through the menus. 
This specific model has 25 LEDs, so you get to have evenly spread light across the screen, which also features a warm orange glow to reduce pressure on the eye. However, there is an ongoing debate of whether buying a $270 Kindle is worth it. Although you can go down $20 bucks if you are okay with ads, this golden price tag also lets you enjoy its unmatched features, which are currently unavailable in all the rest of the Kindles out there. 
It has a larger 7-inch touchscreen with an aluminum design and physical buttons to let one-hand read for added convenience. Unlike the rest, the display screen offers more natural lighting with automatic brightness adjustability. 
If you want to go the extra mile and amp up your Kindle Oasis, you can always try a premium Kindle leather cover for a complete luxe feel. All in all, the lightweight design and advanced backlighting can be effortless to read non-stop in this Kindle. 
Pros 
Sleek metallic design

Water-resistant 

Premium display quality

The most advanced option 
Cons
Expensive 

No charger included

Thicker sides to make it harder to hold
The Best Kindle to Buy In 2021: Buyers Guide
Now that you're fully equipped with all the information regarding Kindle, you will never be able to make the ideal choice unless you know exactly what you want. To help you do that, here is a complete buyer's guide that you need to make an informed decision. 
Price
If you have specific budgeting for this purchase, it can be easier to make a choice. If you are not willing to go fill in at the moment, going for the $90 Kindle is surely the best choice. It offers all the features you need but at a relatively affordable price. However, if you don't mind investing some solid bucks in getting the highest quality Kindle, then it can be slightly daunting to choose between Kindle Paperwhite and Kindle Oasis. 
Here, Paperwhite is ideal for durability and reliability while Oasis can give a more luxurious feel with added adjustability. 
User Friendliness 
Kindle is known for its minimal design, so fiddling around with menus and features that you probably won't end up using is not something you wouldn't want in your device. Therefore, go for a kindle that offers better usability for new users. 
Waterproof
As you have already witnessed, not all Kindles are waterproof, but these additional features also come at a heftier price. This, depending on your preferences, you can make the right decision. 
As you have reached the end of this article hopefully you have decided on the best kindle to buy in 2021 of your liking.